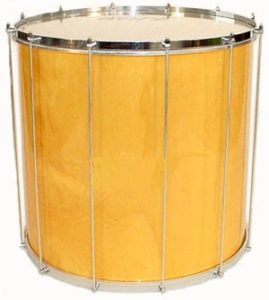 The SURDOs are the large drums that keep the bateria together. In a bateria, there are usually 3 different types of surdos. They are the rhythmic foundation on which all the other instruments rest. The surdo is played with a mallet, which the player grasps with one hand while he muffles the drum with the other hand. There are three kinds of surdos, each with a different tuning.
The FIRST SURDO attacks on the down beat and uses the hand to muffle the upbeat.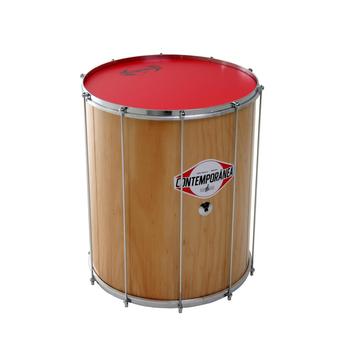 The SECOND SURDO plays the opposite of the first surdo with the mallet striking on the upbeat while the hand muffles the down beat. It answers the first surdo.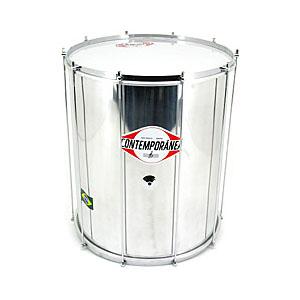 The THIRD SURDO complements the other two filling in the spaces with improvised rhythms designed to enhance the basic swing of the bateria.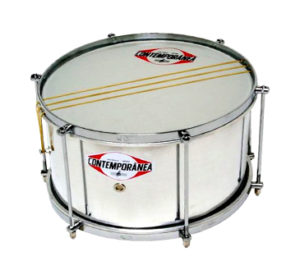 The CAIXA is the snare drum which keeps a steady and swinging beat with a few interruptions. Next to the surdo, it is the most important instrument for maintaining the rhythm of the bateria.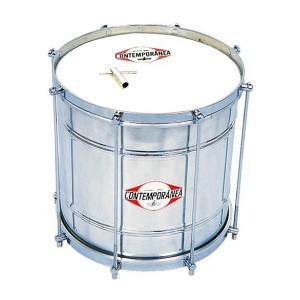 The REPINIQUE is somewhat larger than the caixa. It is the instrument that "calls the shots." It gives the starting signal to the other instruments, and like the third surdo, is meant to be played creatively, with improvised patterns which complement the rhythms of the other drums.
The TAMBORIM is the smallest instrument of all. It is the "soprano" of the bateria. Its high and sharp sound rides over the top of the other instruments, and decorates and defines the samba both rhythmically and melodically. It is played with a long plastic stick consisting of two, three, or more plastic rods, which produce a loud piercing sound. The player holds the stick in the one hand and sometimes marks the beat with the fingers of his other hand on the inside of the tamborim.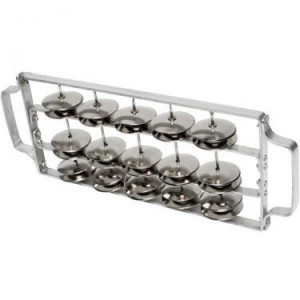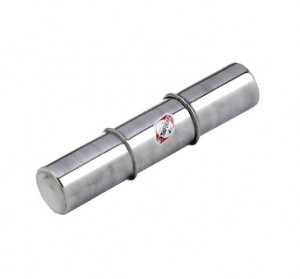 CHOCALHO and GANZA are the shakers, which are hand-held and shaken vigorously back and forth. The chocalhos sing out over the rest of the percussion section, adding color and vibrant swing to the music.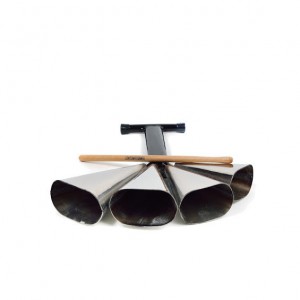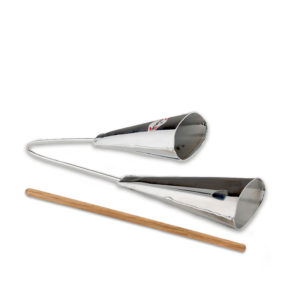 AGOGÔ are groups of two or more metal bells played with a wooden stick. Like the shakers, they add color to the bateria. In a samba school, the agogo players are often a show unto themselves, since they play complicated patterns, and their movements are sometimes choreographed.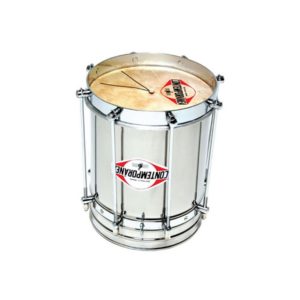 The CUICA is the most unusual of all the samba instruments, the cuica looks like a drum, but is played by rubbing a piece of damp cloth up and down a stick which is attached to the inside of the head. The sound of the cuica is somewhat like the human voice, with its rhythmic cries and yelps, changing pitch from a low growl to a high squeak and everything in between!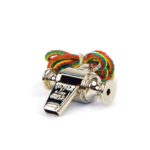 The APITO is the whistle, which is used only by the director of the bateria, mainly to get the attention of the players, to mark entrances and exits, and sometimes to emphasize or accompany the rhythm.